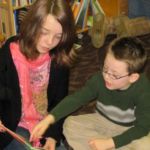 The Unfolding of the Day
At The Lighthouse School, establishing a daily rhythm is important for creating structure and consistent expectations. Early morning activities are designed to wake up the brain and get it working with the body to increase attention and focus for the day ahead.
Every day begins with Morning Circle. This time is designed to provide moments of solemn thought, spirited movement, increasing challenges (mental and physical), and repetition of familiar material. In the early grades students sing songs, move to music, work with rhythm sticks, and recite mental math activities. In the older grades, students might practice yoga or tai chi, memorize and recite poetry, and/or hold class meetings to discuss social issues. Please click here for more information on Morning Circle.
After circle, the Main Lesson Period runs for up to two hours, covering specific themes for 2-6 weeks. This allows for thorough exploration and contemplation of the subject matter while avoiding the disruptions inherent in shorter lesson periods. Please click here for examples of main lesson themes within each grade.
Recess and Lunch provide a chance to enjoy unstructured time. The learning continues however, as students navigate the realm of social relationships. Accordingly, teachers and other adult supervisors are trained in positive intervention and mediation techniques to assist students in communicating effectively, managing conflict, and building community through mutual respect and consideration.
Specialty classes in art, music, Spanish, drama, and handwork are scheduled in the afternoons, along with PE, computer lab, and library. (Click here for more information.) In addition, there are practice periods for math and literacy throughout the week. The older grades participate in electives such as gardening, gourmet cooking, dance, and yearbook. Beginning in fifth grade, students may participate in Student Council to plan service related activities and social events.